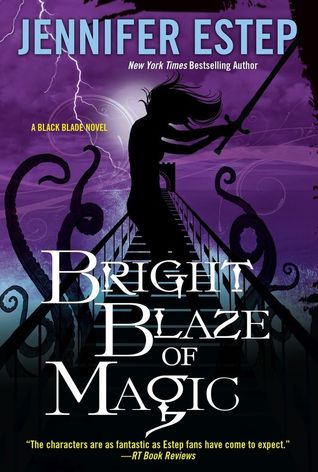 Book Description:
"The characters are as fantastic as Estep fans have come to expect." –
RT Book Reviews
Bad Things Always Come In Threes…
As a thief, I'm good at three things: hiding in the shadows, getting in and out unseen, and uncovering secrets. I put these skills to work for the Sinclair Family, one of the magical mobs that run the tourist town of Cloudburst Falls.
Everyone knows Victor Draconi wants to take over all the other Families--and kill every last Sinclair. What they don't know is that I'm on to him, and no way will I let the man who murdered my mom get away with hurting all the other people I care about. Especially when I've got places to break into, stuff to steal, and Devon Sinclair fighting right by my side…
"An adventurous ride you will never want to get off." --#1
New York Times
bestselling author Jennifer L. Armentrout on
Cold Burn of Magic
My Thoughts:
So, super excited about this book. Lila, Felix and Devon are sneaking and finishing a job for the Sinclair family. It seems the Draconi's timeline may be sooner than any of them expected, but no one was prepared for what happened. Always the thief, Lila is good at staying out of sight, but maybe this time she isn't supposed to. To save herself and those she loves, she will have to stand up to the man who brutally murdered her mother and win.
I completely adore Lila. She is such a strong and capable character. She can scale buildings, fight with swords, kick some serious butt, BUT she can't take those she loves being hurt. Her and Devon's relationship makes me smile. I also love how her mother's friends are there for her and we learn a lot of backstory that completes the picture. I am sad that the series is over but the story is so great. Love the characters, plenty of action, and you just cannot go wrong reading this series!
Absolutely a 5/5. Estep did a wonderful job tying up this trilogy in a neat bow (but did leave it open for maybe future books??? Fingers Crossed!)
Thank you to the publisher for the review copy of this book (via netgalley). I received this book in exchange for an honest review and the opinions stated above are 100% mine.