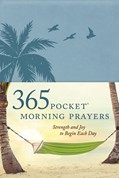 Book Description:
Each morning when you arise, take a moment to talk with God about the day ahead. Ask Him to prepare your heart so that you can be ready to face any challenge that comes your way.
365 Pocket Morning Prayers
can guide this time of life-changing conversation and help you express your needs and concerns to God. Don't worry about what the day will bring. Instead, release your troubles and concerns into God's care by reading and meditating on the prayers featured in
365 Pocket Morning Prayers
. Begin your day in joyful anticipation, trusting that God is in control of your life and wants only the best for you.
My Thoughts:
I think this is a book that any Christian can use. It is 365 prayers that are extremely easy to relate to your everyday life. There are comfort, love, marriage, compassion and so many more. There is no order that you have to read this in but if you feel compelled to skip around or read straight through, each morning/day it is great.
This little book actually helped me to get more in the habit of talking to God each morning. It is something all Christians should do but it is easy to get out of the habit of doing it. Each prayer has a scripture to relate to it and even if the prayer doesn't specifically relate to your issues of that day, you will find some joy/comfort in reading God's word.
I rate it a 5/5.
Thank you to the publisher for the review copy of this book. I received this book in exchange for an honest review and the opinions stated above are 100% mine.