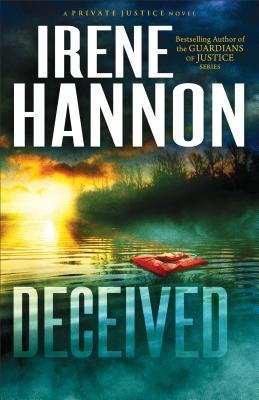 Book Description:
For three years, Kate Marshall has been grieving the loss of her husband and their four-year-old son in a boating accident. But when she spots a familiar-looking child on an escalator in the mall, she is convinced it is the son she thought was dead. With police skeptical of her story, she turns to private investigator Connor Sullivan. The former Secret Service agent is dubious but agrees to investigate. Digging into the case he discovers that the incident may have been no accident at all. But if Kate's son is alive, someone is intent on keeping him hidden--and may be willing to go to lethal lengths to protect a sinister secret.
As Irene Hannon's many fans have come to expect, "Deceived "is filled with complex characters, unexpected twists, and a riveting plot line that accelerates to an explosive finish.
My Thoughts:
This one was a bit tough, but good! Kate had thought she'd put the loss of her husband and son in the past and moved on with her life. She would never say she was 'over' them, but she did move and get a new job and try to focus on the future...that is until an incident at the mall makes her question what she thought was reality. Certain she'd seen her son, she reaches out to PI Connor Sullivan. He isn't certain what Kate experienced but is willing to look into it, just to ease a grieving mother's mind (even if he is attracted to her). Neither of them expect what they will discover in this investigation. I liked Kate. She was a strong woman who had been through a lot. She loved her husband deeply and her son as only a mother can. Working through the pain of losing both of them cost her dearly but she did it. Connor was a great 'knight in shining armor' or PI, whatever! He treated her with respect and I thought their mutual attraction was well written and executed. I also enjoyed going back and seeing what was going on with the characters we'd already met and see how their lives are growing and changing.
Plenty of questions and suspense make this a 5/5 for me. I really enjoyed the story, but as a mother it makes me want to grab my babies and hide them away!
Thank you to Revell for the review copy of this book. I received this book in exchange for an honest review and the opinions stated above are 100% mine.