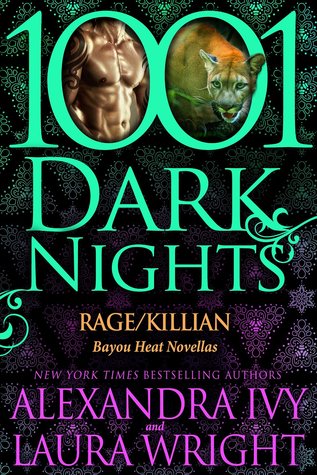 Book Description:
Get Wild in the Wildlands
From
New York Times
Bestsellers, Alexandra Ivy and Laura Wright, the heat of the bayou is back with
Rage/Killian
in an all-new dual 'tail'. Enter the Wildlands, where a new, volatile danger threatens the sizzling hot Pantera.
RAGE
Rage might be an aggressive Hunter by nature, but the gorgeous male has never had a problem charming the females. All except Lucie Gaudet. Of course, the lovely Geek is a born troublemaker, and it was no surprise to Rage when she was kicked out of the Wildlands.
But now the Pantera need a first-class hacker to stop the potential destruction of their people. And it's up to Rage to convince Lucie to help. Can the two forget the past—and their sizzling attraction—to save the Pantera?
KILLIAN
Gorgeous, brutal, aggressive, and human, Killian O'Roarke wants only two things: to get rid of the Pantera DNA he's been infected with, and get back to the field. But the decorated Army Ranger never bargained on meeting the woman—the female—of his dreams on his mission to the Wildlands.
Rosalie lost her mate to a human, and now the Hunter despises them all. In fact, she thinks they're good for only one thing: barbeque. But this one she's guarding is testing her beliefs. He is proud and kind, and also knows the pain of loss. But in a time of war between their species, isn't any chance of love destined for destruction?
My Thoughts:
Completely enjoy this series and Rage/Killian's stories were no different. Rage has never understood why Lucie didn't want to be a part of everything. He didn't understand why she stayed on the fringe, in the shadows. Now, their people need her help and he is the one sent to track her down. Lucie is the best at what she does and she's always had a thing for Rage. Now together, they discover a mutual attraction!
Killian is a human. Rosalie hates humans. Humans killed her mate and now they must pay with blood. She wants to kill Killian but at the same time is horribly attracted to her. As an experiment, all Killian wants to do is get whatever they put in him out. His attraction to Rosalie is not good timing for either of them...is it?
Loved all the characters in these books. Rage is an awesome Hunter and compassionate. Lucie is hurt and wants to be needed and wanted. I really loved how Rage treated her. She had done some things to him that he didn't understand but he still treated her well, especially when he found out about her past.
Rosalie is a Hunter that is wanting blood and is ready for war. I felt terrible for her, but I also felt bad for Killian for being a science experiment. Together they may heal or kill each other. It was fun reading which would happen.
4/5 for me. I really do enjoy all the Ivy & Wright books!!
Thank you to the author for the review copy of this book. I received this book in exchange for an honest review and the opinions stated above are 100% mine.