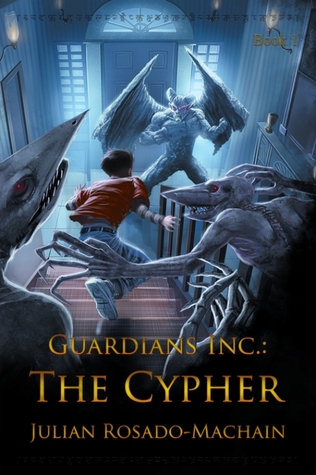 Book Description:
GUARDIANS INC.: THE CYPHER is two stories in one. A glimpse into a multinational company that is in reality the oldest of secret societies, one that spans close to seven thousand years of existence, weaving in and out of history, guiding and protecting humanity from creatures and forces that most of us believe are only mythology and fairy tales.
The other is the story of Thomas Byrne, a young man thrust into secrets he shouldn't be aware of and dangers he shouldn't face but, that he ultimately will, for he is a Cypher. The only one who can steer humanity's future.
The ultimate conspiracy theory is that Magic is real. Kept in check by technology but, every five hundred years the balance can shift and, if it does, technology will fail and those creatures we've driven into myth will come back with a vengeance.
To protect the present, Guardians Incorporated needs to know the future.
My Thoughts:
This was a pretty good YA Science Fiction. Thomas, along with his grandfather, gets a job working at a huge library, which is part of Guardians Inc. This is when all the excitement begins. Thomas discovers that Guardians Inc. is much more than it appears to be. They are to keep the balance between magic and technology in balance. Thomas is discovered to be a Cypher. Now, it is just the time that the balance could be tipped and everything in the world change.
Honestly, the book started out a bit slow, but the characters and story line were good. I completely enjoyed Thomas and his grandfather's relationship. It was a true family connection. I also liked that though Thomas is young, he was ready to do whatever he could. The supporting characters intrigued me as well and I do hope there is more of them in the following books.
This was a 4/5 for me. I will definitely read the next in the series and I think most YA readers that enjoy the science fiction/fantasy will like it.
Thank you to the author/publisher for the review copy of this book (via PumpUpYourBook). I received this book in exchange for an honest review and the opinions stated above are 100% mine.