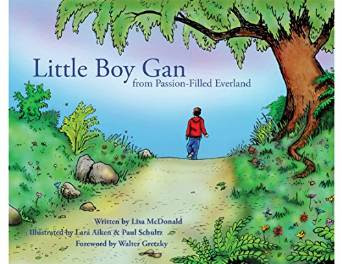 Book Description:

McDonald's first book,

LITTLE

BOY

GAN

FROM PASSION-FILLED EVERLAND

, tells the story of ten-year-old

Gan

.

Gan

is humble and wise with a loving spirit that he shares with the animals he meets in the magical forest where the story takes place. The curious animals watch

Gan

and observe his kindness and humility. Soon they seek the

boy

out to learn the secret of his happiness. The old soul gives his new friends advice on humility, passion, compassion, and paying it forward. The impact

Gan

has on the animals is life changing. The lessons they learn lead to expressions of gratitude for their individual gifts and embolden them to share their passions with the world.




My Thoughts:

I liked this book. Gan is an adorable character that has many wonderful traits, and is so wise (especially for his age). The animals and creatures he meets ask him questions and he answers. I have to say that some of his answers made me think a great deal. The pictures are large and colorful and my 2 children loved them. The book kept their attention and they even asked some questions after. The way the author ended the book made me smile and I look forward to reading her next work.

This is a 5/5 for us! It is a great bedtime book.




Thank you to the author for the review copy of this book (via PUYB). I received this book in exchange for an honest review and the opinions stated above are 100% mine.