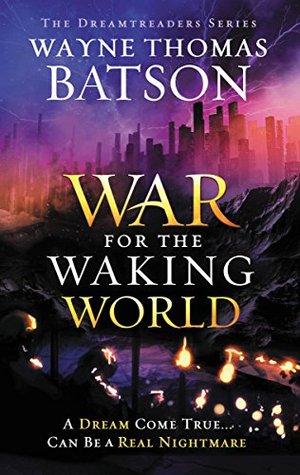 Book Description:
Fifteen-year-old Archer Keaton has the ability to enter and explore his dreams. He is a Dreamtreader, one of three selected from each generation. Their mission: to protect the waking world from the Nightmare Lord who dwells beyond the Slumber Gate. But as Archer's dreams become more dangerous and threatening, so too does his waking life.
In this fast-paced conclusion to the exciting fantasy trilogy, the dream world and the waking world bleed into each other when a rift is formed between the two. People in the real world suddenly find their waking lives resemble their wildest dreams. Now it's up to Archer and his fellow Dreamtreaders to race to reverse the rift before too much damage is done and to battle Archer's ex-best friend, Kara, who sits on the throne of the Nightmare Lord. Kara is building an army of her own. Will Archer be strong enough to stand against her?
My Thoughts:
This is the end of a good trilogy. Archer is a fifteen year old Dreamtreader. In this book, the dream world and the awake world combine. Archer's job is to protect the waking world from the Nightmare Lord, who also happens to be a former friend. Archer has to get the tear between worlds fixed and fixed quickly!
There is plenty of action in this. I know it is for YA but I completely enjoyed the trilogy. The author does a great job with imagry and it is great with the dreams becoming reality. Archer is a strong young man and I really got trapped in his journey and couldn't leave until the end. It wasn't an easy journey by any stretch of the imagination but it was thrilling.
I really liked this whole series. I would say start with book 1 and go from there but this one could be read as a stand alone. 5/5 for me.
Thank you to the publisher/author for the review copy of this book (via Litfuse). I received this book in exchange for an honest review and the opinions stated above are 100% mine.