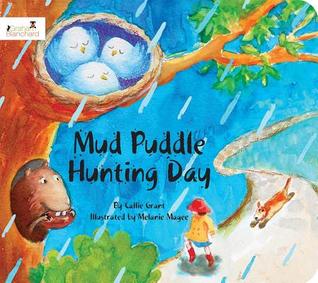 Book Description:
All of God's wonders look different for play on mud puddle hunting day! Children join the adventure of a young girl's dash through the rain where she finds just what she's looking for--a spalshing experience with God's amazing creation. In the Graham Blanchard book collection, Mud Puddle Hunting Day is a Praise book, which celebrates the soul-pleasing wonders of God that children experience every day. A natural response to this God-filled world is worship, gratitude and awe for him and his glory, while young hearts grow for him.
My Thoughts:
This is a cute book. You travel along with a little girl on a rainy wet day as she enjoys God's world. It is the search for mud puddles and splashing is ok today. I really liked the 'getting dirty is ok sometimes' that this book shows. Also how it shows that the world is God's creation and we should enjoy it. This kept my 3 kids' attention and we all enjoyed it.
5/5, this one is going onto my daughter's keeper shelf as she snatched it off mine :)
Thank you to the publisher/author for the review copy of this book (via Book Club Network). I received this book in exchange for an honest review and the opinions stated above are 100% mine.