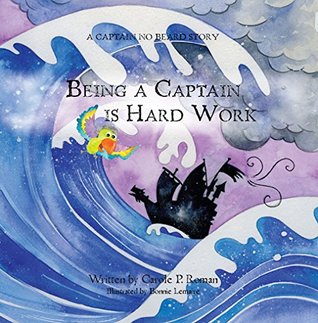 Book Description:
Captain No Beard is determined to travel to Dew Rite Volcano. He won't listen when Mongo predicts a storm or Linus indicates they are headed in the wrong direction. He insists Polly cook in the galley even though the seas are getting rough. What's a crew to do with a stubborn, know-it-all captain?
Will they convince the captain he is barreling headlong into danger, or will Captain No Beard jeopardize both his safety and the crew's with his single-minded determination to go where he wants?
My Thoughts:
This was a good little book. Captain No Beard is determined to travel to the volcano. He doesn't listen to his crew at all. He doesn't pay attention to the weather. The Captain knows best, he thinks. I liked his character. He was a stubborn captain who should have listened to his crew.
Overall, I liked all the characters. I got annoyed with the captain, which is what the author wanted, and it is a good teaching point. My 6 & 8 year old children liked it and were talking to the characters as we read. I think young kids will enjoy this book and learn from it.
It was a 4/5. I think it teaches a good lesson on top of being a good read.
Thank you to the author for the review copy of this book. I received this book in exchange for an honest review and the opinions stated above are 100% mine.