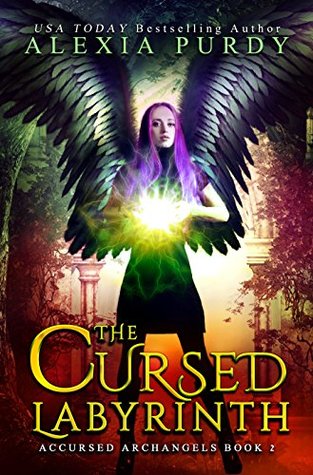 Book Description:
This is Book 2 of the Accursed Archangels Series
Thalia Brennan is lost within the legendary labyrinth realm called the Skein alongside the archangel, Ereziel. Encountering different beings and enchanted locations, they must find a way out. It's rumored there's a doorway into heaven from here, but no one knows exactly where it is. Thalia is certain the gate doesn't exist until she stumbles upon a young girl who's also lost. She didn't come from Earth. She came from the Heaven's gate and must be returned.
The creatures of the Skein Labyrinth can be terrifying than those of Earth, Heaven, or Hell. When the three companions make their way to the outer rings to find the gateway to Heaven, they discover there's more here than meets the eye and being a native might have its advantages. Being hunted by those who've heard Thalia has the only key to escape, the trio scramble to find the portal back to Earth, or the gate to Heaven before becoming imprisoned in this strange realm forever.
Accursed Archangels is a young adult urban fantasy series which will appeal to readers of paranormal romance, vampires, reverse harems, angels, demons, and supernatural lore.
My Thoughts:
This is such an original series! Cursed Labyrinth is the second book in this series and really, to understand it, you need to have read the first book. This book picks up right where the last one left off with our three characters now in the Skein. The land is nothing like they expected and has dangers Thalia never anticipated having to contend with.
I really liked the new characters added. The storyline continued to be original and keep my attention from start to finish. There is a mix as far as the new land is concerned for me. It was super creepy and dangerous but at the same time, it was Thalia's homeland. Her seeing where she came from and what she could have grown up in, made a difference in her character. With now four guys to choose from (or not) I really am intrigued by Thalia and her group of men.
It was a 4/5 for me. I cannot wait to see where the author takes the story next.
Thank you to the author for the review copy of this book. I received this book in exchange for an honest review and the opinions stated above are 100% mine.